I do not know if you have noticed around you, heels are getting higher and higher, and more ridiculous by the day. Podiatrists have started a trend in calling this Shoe-icide.
Although fabulous to look at high heels can lead to anything from injuries, to chronic pain and foot conditions for the wearer.
Therefore I have taken the time to do some research into alternative footwear, particularly lower heel styles for women to wear in a more formal setting.
Short on time? Here's a summary of the Best Shoes We Found:
---
Why Stay Clear of High Heels
Whether they are sky high or just a medium height, there is absolutely nothing beneficial to your health or feet in a high heel. High heels may look good but at what cost, and let's look at a few reasons why;
Unnatural Foot Position – A high heel forces your feet into a position that puts a lot of stress on the ball of your feet. The nerves and bones in this area can become damaged and even fractured from the repetitive strain from wearing high heels, causing chronic pain and in the end immobility.

Ankle Sprains – Any and all heels greatly increase your risk of getting your ankle sprained, of which the most common is a lateral sprain. A lateral sprain occurs when you roll onto the outside of your foot, stretching the ligaments beyond their normal length.

Ligaments – A severe sprain may even tear your ligaments which can lead to you being immobilized and requiring physical therapy. This, in turn, increases your risk of developing osteoarthritis at a later stage in your life. Stilettos are one of the main culprits when it comes to ankle sprains.

Heel Control – The very thin heel of a stiletto pinpoints the weight of your entire body to one area, which in turn causes you to wobble just like you would walking on stilts. This can end up in a trip and fall, spraining your ankle.

Ballet Flats Not a Heel but I just had to add this, before you start thinking that I am only heel bashing. Flats are likewise a common enemy when it comes to painful foot conditions and injuries. A flat shoe offers absolutely no arch support and keeps your feet from functioning normally. This, in the end, can lead to hip, knee and back problems, as well as a painful foot condition called Plantar Fasciitis.

Platforms and Wedges – Next, let us look at platforms and wedges, they tend to have a very rigid footbed which throws off the biomechanics of walking. As your foot tries to bend in a certain way, the shoe completely restricts it. The heel that is so much higher in a platform and wedge likewise adds more pressure to your metatarsal bones. To give Platforms and Wedges a break, there is a better alternative, why not go for a Flatform, just as flattering and high, but a much better shape for your feet.

---
How a Low or Chunky Heel Helps
The solution to all your heel problems is so simple and easy, just go LOWER!!!
Switching to a lower heel will prevent issues with your metatarsal bones and allow your feet a much more natural position. Choose a heel that is never more than 2 inches high to be absolutely safe. Make sure to wear them in moderation, heels are not your friend when it comes to being active on your feet all day, even if they are low.
A low chunky heel gives you more surface area to spread your weight more easily taking the edge off your metatarsal bones. A shorter and chunkier heel likewise offers much better stability, which can prevent you from spraining your ankle and reduces tripping hazards.
All is not lost when it comes to lower heels, you can find almost any heel type in a lower option, a low stiletto or kitten heel, which I'd only recommend to wear occasionally, a chunky heel, short Wedge or even a Flatform heel. Come to think of it when it comes to Flatforms the dangers are much less, so you can go a bit higher on these.
So now that we have settled it, let us look at some of the great options in lower heel styles for an evening shoe, and how to choose your perfect match;
---
Choosing the Right Heeled Shoe
When choosing the right pair of heels to wear as evening footwear, it can become just slightly confusing as to what heel type is which, here is a list of the heel types to look at;
A block heel is a low square heel that is quite wide and similarly long.

A chunky heel is a thick heel that narrows down slightly to the end.

A kitten heel has the same shape as a stiletto heel but it is very short.

The Stiletto heel is a very thin, and long pointy heel, in this case, you will opt for the same shape, just much shorter.

The platform, this is where you have a built-up toe and a tall heel, also available in a lower option.

A Flatform has a solid one size sole that runs from the toe to the heel.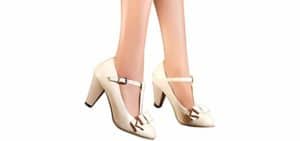 Lastly the Cone heel, which is exactly as described the shape of a cone starting of wide and round and ending in a narrower point.

Additional Comfort Features
Arch support for your arch type.

Cushioning in the footbed or insole.

A supportive Midsole.

A durable and slip resistant outsole.

A moisture-wicking or comfortable dry lining.

Soft and supple uppers with enough toe room.

After you have decided on the heel the color and style are up to you. Make sure that the shoe fits comfortably and features some comfort characteristics such as cushioning and arch support. One thing that I also check for is that the sole is not too slippery and offers a bit of traction.
---
Reviews: Best Available Low Heeled Dress Shoes
Here are a few excellent choices in low heeled shoes that you can wear in the evening;

NO.

When elegance meets innovation that is when you get the Cole Haan Tali Bow Pump. A stunning evening shoe, available in the most gorgeous patterns, with the added bonus of exquisite comfort and support features.
Top Features:

The uppers are manufactured from soft and supple leather with stunning bow detail.

This shoe is entirely skeletal leather lined for comfort and sturdy support.

A fully padded sock liner manufactured from durable leather hugs your feet.

A polyurethane midsole for lightweight support and stability, with a durable and high traction rubber outsole.

This shoe features Grand OS cushioning technology that provides cushioned comfort and support throughout the footbed, with a fit that naturally adapts to your feet.

Furthermore, The Cole Haan is available in a variety of colors, patterns, and materials for you to choose from.

Best Choice
NO. 1

Naturalizer became one of the first shoe brands for women that would provide them with much desired style and class, while still being superbly comfortable.
I have chosen the Okira from Naturalizer with its low kitten heel and, charming cross straps, ideal for an evening out to dinner and dance.
Top Features:

The Okira is available in many color designs from either smooth leather or suede leather.

Comfortable leather uppers with cross straps as decorative detail and for a more secure fit.

Features innovative cushioning and heel to toe balance to keep you securely on your feet even in heels.

The sole is durable and highly flexible to prevent you from twisting your ankle and to provide more freedom of movement.

Manufactured from very lightweight, but still high quality materials.

Inside there is a breathable soft lining to keep your feet dry and comfortable all night.

Runner Up
NO. 2

Something a little less 'dressy" but still sophisticated and feminine, ideal for a summer night out to town or out on a date.
Top Features:

100% durable and soft leather uppers with fabulous decorative detail and adornments.

A slight wedge heel for an elegant touch that is still comfortable and safe.

Available in a variety of colors and designs, as well as sizes and widths.

The comfortable and anatomical molded EVA footbed will keep you on your feet all night.

Adjustable straps for the most comfortable and customizable fit.

Overall very lightweight and comfortable with a flexible fit and sole.

NO. 3

Who doesn't love a Gladiator sandal, this one comes complete with an adjustable fit, cushioned comfort, and just check out that patterned rubber outsole, no slips and falls with this one.
Slim buckle straps add the right amount of edge to this contemporary gladiator sandal with a block heel. Zipper closure allows for easy on and off while the soft cushioned insole provides support and comfort.
Top Features:

Synthetic leather uppers available in black, Taupe and Tan color options, with slim buckle straps and a zipper closure for easy on and off.

The insole is plushly cushioned for soft and comfortable support.

The thick and durable rubber outsole with lug patterns will ensure you enjoy the best traction on all surfaces, and likewise excellent shock absorbency.

A low block heel for better stability and a touch of sophistication.

NO. 4

I love this design from Naturalizer. Besides for all the exquisite comfort and support features, the plain and simple pump style, with platform and stiletto heel is perfect for an evening out with any ensemble that you desire.
Top Features:

Cushioned for support and comfort providing heel to toe balance.

The sole is flexible and lightweight with high traction and durable outsole.

Very lightweight, with a soft breathable lining keeping your feet dry and fresh.

Stunning patent or smooth leather uppers available in a large variety of color options for you to choose from.

A medium stiletto heel that is sturdy and offers good stability with a forefoot platform.

The rounded toe ensures better toe room and less cramped and painful toes.

NO. 5

No list is complete without the old favorite Slingback, and similarly, pointy Toe which never goes out of fashion. So here is the best of both in one absolutely gorgeous dress shoe.
Top Features:

Synthetic leather uppers that are soft and supple with an adjustable slingback for the perfect fit.

Available in many colors smooth leather options, or Glitter finish options.

A latex padded insole for comfort and support.

The 2,5-inch kitten heel is ideal for creating an elegant feel as well as remaining a safe and comfortable height for your feet.

The durable rubber outsole is highly slip-resistant and offers excellent traction.

NO. 6

A stunning dress sandal for those warm summer nights out, from Crocs, that is sure to be extremely comfortable and lightweight.
Top Features:

Manufactured from the very lightweight and cushioned soft Crosslite material.

Has a shorter block heel that is sophisticated and stabilizing.

Very easy slip-on the fit that is cool and breathable.

Durable with a slip-resistant outsole.

NO. 7

This simple and elegant dress sandal from Dream Pairs is available in a variety of colors and print options to suit your dress and personality perfectly.
Top Features:

Choose between smooth, patent, Nubuck or fabric upper styles.

Features a low heel for style and comfort.

Ankle strap with a buckle feature for adjustability.

Slightly cushioned insole for more comfort and support.

A durable synthetic outsole.

In Conclusion
As you can see from my list I have tried to include shoes of different styles with different low heel types, all perfect for formal and casual evening excursions. All these shoes feature some exceptional comfort features as well, to keep your feet well supported and happy.
So as you can see, you don't need a high heel to look feminine and classy.
Take care of your feet, they are precious and important, wear a low heel!!
---
Index Table: Top-Rated Low Heel Evening Dress Shoes