When the gardening Bug Bites, and you found your craft, its so easy just to grab the first pair of oldest shoes at the back of your closet to use.
But after a long day in your garden, you notice your feet start to hurt, get wet, and even chafe and develop blisters. So why not ditch those run-down old rain boots or sneakers and invest in a pair of shoes that are a bit more "garden Friendly'.
Short on time? Here's a summary of the Best Shoes We Found:
---
Why You Need a Good Pair of Gardening Shoes
There are two main aspects of a gardening boot, they PROTECT your feet and they keep your feet COMFORTABLE.
A few garden hazards may include;

Thorns.

Pests.

Insects.

Sharp stones.

Loose and slippery surfaces.

Wetness.

Spiders.

Chemicals.

Mud and Debris.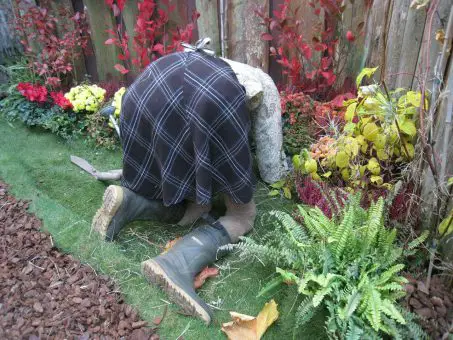 Your gardening shoes should at least provide protection against these.
Discomfort may arise from wetness or a lack of breathability in your shoes that may become hot during those summer days. A cushioned and supportive insole will likewise provide comfort and shock absorbency when you are actively on your feet and prevent pain and fatigue at the end of the day.
---
Tips for Choosing the Right Gardening Shoes
Here are a few helpful tips to help you choose the perfect pair of gardening shoes;
Comfort and Fit – A good snug fit that does not place pressure on your feet is ideal, as the last thing that you want when digging up in your garden are blisters and caring. A supportive and cushioned insole or footbed will also provide good shock absorbency, comfort, and support when you are active on your feet.

Slip On – I would highly recommend an easy slip on and off a shoe for two reasons. One is that they are much easier to clean and hose down when there are no laces or closures that can become grubby or even rusty. Secondly, sometimes you need to just do a quick run to the garden for a small task, then slip-on shoes can be quickly slipped on and off.

Safety – while a pair of flip flops or sneakers are okay, they are not going to provide the safety measure that a proper gardening shoe does to avoid injuries and keep your feet dry. Safety is very important and your main features to keep in mind are waterproofing and slip resistance in a good gardening shoe.

Easy To Clean – Most gardening shoes have an easy to clean wipe down or hose down design. This is important because your gardening shoes are going to get pretty dirty almost every time you work in the garden, and to prevent dirt and debris from building up, a quick rinse or wipe may be required.

Style – As we are ladies, style and fashion are important, luckily most gardening shoes today come in a range of fun colors and patterns to choose from, even though their shape, in general, may not be too appealing. Then again, no one is really going to see you in your gardening shoes, so the style is only a personal preference.

Waterproofing – last and most important is a shoe that either keeps water draining easily and dries quickly, or that is waterproof keeping liquids out entirely. Wet feet can be very unhygienic and uncomfortable.

---
Features of a Good Shoe for Gardening
Waterproof design from rubber or with a waterproof membrane.

Ventilated and cooling.

A water draining system in your summer style shoes.

Breathable design for hot weather.

A protective and slip resistant outsole.

Comfortable and cushioned insole.

Durable design.

Easy slip-on and off, design.

Long or short shaft.

Easy to clean and quick drying.

---
Reviews: The Best Shoes for Gardening
Here are some fun and feminine durable and protective gardening shoe brands;
---
NO.

Sloggers are one of the top brands when it comes to rain boots and shoes as well as gardening boots and shoes. This is a completely waterproof gardening Boot that is available in many fun prints and colors for you to choose from.
Top Features:

Features a heavy Duty Lug tread for slip resistance and excellent gripp.

Longer shaft for full protection.

Completely waterproof design.

A comfortable cushioned insole for all-day support.

Available in many color and pattern options.

Highly durable and hardworking boot.

Best Choice
NO. 1

If you are looking for the perfect shoe for some serious gardening work, then I would highly recommend the Muckster from Muck Boots.
Top Features:

Made from durable waterproof rubber with a slip resistance high grip rubber outsole.

4mm of neoprene provides comfort and flexibility with superb waterproofing.

heat retention and shock absorbing characteristics.

The shoe will adjust to the shape of your feet for an adaptable fit to prevent blisters and chafing.

A comfortable Shock absorbing insole.

Runner Up
NO. 2

The Bogs Daisy is a hard-working garden work boot ideal for those tough jobs in the worst conditions.
Top Features:

Rubber and textile uppers with 4mm of Neo-Tech insulation for colder conditions.

Completely waterproof with a long protective shaft.

Features DuraFresh biotechnology to fight foot odor and Max-wick to wick away sweat.

A tough rubber outsole with lug tread for excellent slip resistance.

NO. 3

A colorful gardening sandal that is quick drying and offers excellent breathability in hot weather conditions.
Top Features:

Made from soft and comfortable EVA with an MD sole.

A roomy fit for toe and forefoot comfort.

Ideal slip on and off sandal for those quick garden jobs.

Lightweight and ergonomically designed in sizes for men, women and children, and availability in many color options.

Ventilation and drainage holes to keep your feet dry and cool.

NO. 4

Yet another superb model from sloggers the quick and easy slip on and off, low profile waterproof garden boot.
Top Features:

Available in many colors and patterns to choose from.

A slip on completely waterproof gardening boot.

An all-day comfort cushioned insole.

Features a heavy-duty rubber lug outsole to prevent slipping.

NO. 5

Lightweight and comfortable slip-on sneakers for gardening from Gracosy.
Top Features:

Completely waterproof design, ideal for working in wet conditions.

Durable and sturdy construction with a slip-resistant outsole.

Comfortable and lightweight sneaker style.

Easy to clean with an easy slip on and off the design.

Sizes for both men and women, with three color variations to choose from.

NO. 6

These eco-friendly rain boots from sloggers feature fun and funky designs and prints and are a great shoe for gardening.
Top Features:

Made from recycled materials and scraps with a fun and funky printed top.

A durable and slip-resistant rubber outsole.

Completely waterproof bootie style.

Comfortable and cushioned footbed.

NO. 7

This model from Crocs features and open back slip-on design for those quick excursions in the garden.
Top Features:

Available in many fun colors.

Waterproof and ventilated design for quick drying.

Soft and cushioned crosslite material construction.

Designed for women with a slim and sleek profile for a better fit.

Index Table: Top Rated Shoes for Gardening